Is Online Sports Betting Legal In The U.S.?
In today's age, with sports betting no longer restricted to obscure and distant sportsbooks in Las Vegas, and now at your own fingertips, you can imagine that its popularity has grown. And this assumption would be correct. However, the caveat is that sports betting continues to be as popular as ever, despite the fact that there is federal legislation in place in the United States that prohibits operations of such sites within the country.
Is Sports Betting Legal Or Not?!?!?
Online sports betting in the United States is certainly a complex and hotly debated issue... one that has made its way all the way up to Congress in Washington. But, the laws that are currently in place pertaining to online sports betting in the United States relate to the gambling transactions, and the methods used to make sports wagers.
Essentially, these laws hinder the operation of sports betting sites that allow USA players to wager by limiting the ways in which they can send and receive funds in relation to the gambling site or they say that you must appear in person in order to wager. These two laws we speak of are the cornerstone of this issue... the Unlawful Internet Gambling Act of 2006, and the Federal Wire Act of 1961.
Find out more: Will I Go To Jail For Online Sports Gambling?
The UIGEA As It Relates To Online Sports Wagering
The UIEGA itself does not make betting sports online or in person illegal but it does function to make life a lot more difficult for those living in the U.S. that wish to gamble/bet/wager. This is because the UIGEA makes it unlawful for U.S. Banks (including bank backed credit cards) to do business with offshore gambling establishments. This is because the U.S. government can not stop the companies from providing their service to those in the U.S. nor can they keep U.S. residents from using these sites as they would be seriously violating our personal freedoms. With that said, the government can keep it's financial institutions from facilitating transactions with those businesses and that is why the UIGEA exists.
Truthfully, this bill would probably have never gotten through Congress if it hadn't been attached to a anti-terrorism/homeland security bill... and this is how our government works :(.
Even though the UIGEA is a pain in the rear, it's not impossible to overcome as there are several proven ways to send and receive funds with online sports betting operations. To learn more about the ways to deposit into sports betting sites, click the preceding link as we'll show you a few ways to circumvent the UIGEA.
The Wire Act As It Relates To Betting Sports On The Internet
The Federal Wire Act of 1961 is a very outdated law which for all intensive purposes makes sports betting illegal when not done in-person at a state-regulated sports betting venue. Before you click off the page and move on, let us tell you a little bit more about it then make your decision.
In short, the Wire Act says that using wire communication to make sports wagers is unlawful. When this was originally created, it probably had something to do with keeping the integrity of sporting events by not allowing someone in Ohio or Michigan or Florida or New York, etc... to phone (or wire/telegraph) in a wager to a sportsbook in Vegas or any other place that had legal sports betting operations. And, don't think you're going to catch a loophole using the Internet either. Even though the Internet is not specifically referenced in this bill (it was written in 1961 after all), it has been interpreted to include Internet communication.
Again, before you soil your pants and click off this page as soon as possible, give us a minute to explain what this means in "real life". Bottom line, betting sports is illegal for an individual however do not expect anyone to show up on your door asking questions. There are a few things you need to do to protect yourself and the biggest part of that is just being discreet. The fewer that know about your sports betting the better.
Also, it would not be advisable to claim this income (if you receive cash outs) on your tax returns. While you should pay your taxes, there is no need to disclose anything that the government doesn't already know about, especially if the source of that income is something the feds frown upon. If you do these things, you have nothing to fear and the worst that could ever really happen is that you lose whatever money you had invested in a sports betting site which is highly unlikely.
So, why even have the Wire Act? Good question and the answer is to deter legal betting operations around the U.S. from taking phone and Internet wagers. Believe us, if the boys in Vegas could open their sportsbooks to everyone in the United States, they definitely would. Additionally, this serves to deter any business or entrepeneur from starting his/her own online betting operation. The Wire Act isn't just for show, it will drop the hammer on any person or business illegally taking sports wagers on U.S. soil.
So, how is it that online sportsbooks take wagers from U.S. citizens? Another good question and the simple answer is that online sportsbooks have gone abroad to Panama, Costa Rica and other gambling friendly countries around the World. Because these sites operate outside of United States jurisdiction, they can not be touched by the Wire Act.
The Future Of Online Sports Betting In The U.S.
While online gambling is something that the states and even the federal government (to an extent) are starting to warm up to, the future for sports betting isn't very bright in terms of full legalization and regulation. It's likely that we'll see online casino gambling and online poker become fully legalized and regulated long before we'll be able to freely wager on sports, online or in person. We wish this wasn't true and we hope we're wrong but everything would indicate that sports betting would be the last form of online gambling to get the full support of the government. The only thing we can attribute this to is how much we love our sports and we want them to be uninfluenced by wagering (even though it happens anyway).
Until further notice, players in the U.S. are going to have to stick with using online sports betting sites based outside of the country. We have a handful of sites listed below which we trust with our own money when placing wagers we like.
Beyond that, all sites listed accept players from the United States and therefore they offer the sports that the U.S. sports fan wants to bet on like NFL games, NBA, MLB, college football and basketball, etc... These sites have been around for some time and/or are backed by the biggest names in the online gambling industry which means they are not going anywhere in the foreseeable future. What's more is that all of them have friendly sportsbook funding options as well as methods that allow for some of the fastest sports betting withdrawals around.
Our Recommendation For Legal Betting In A Safe Atmosphere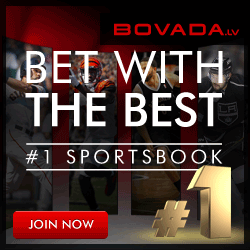 Above all other sportsbooks that offer U.S. citizens an opportunity to wager on their favorite sports and teams, we recommend Bovada. While Bovada was established in 2011, it does have the strongest backing of any sportsbook open to USA bettors and can be trusted with however much money you wish to deposit.
Bovada does not allow players in Delaware, Maryland, New Jersey, or Nevada to open new accounts however every other state is open for registration as long as they meet the legal age to bet on sports at Bovada which is 18 years old. Click here if you'd like to register at Bovada.
For those living in the aforementioned states, we suggest BetOnline or Sportsbetting.ag as both allow all 50 states to join.
Bovada has a 50% welcome bonus good for as much as $250 in sports betting freeplay. Plus, this site also offers U.S. bettors numerous options for deposit including VISA (which according to the UIGEA shouldn't work... but it does) plus friendly payout options which get player's their cash pretty quick.
Legal Sports Betting Help
Recommended Sportsbooks