Bovada Sportsbook Review - All US Players Accepted

One of the more popular legal online sportsbooks is Bovada. Bovada is an extension of the Bodog brand that has been around for decades. Once Bodog left the American market in 2011, its license holder opened Bovada.lv to continue offering its great product to Americans. Although Bovada has only been in service for a year or so, its parent company has been one of the most respected operators in the industry.
Are U.S. Players Accepted At Bovada Sportsbook?
Bovada does accept US players and is considered to be one of the better options for Americans that want to bet on sports at Bovada. This site was actually designed specifically for US players since this sportsbook is just the US brand of Bodog. The company wanted to protect their Bodog brand from any bad publicity and that is the whole reason that Bovada came about.
Is It Legal To Bet On Sports At Bovada Sportsbook?
Placing wagers at Bovada is completely legal for all players, including those that live in The United States. Bovada is licensed and regulated and all wagers that are placed are 100% legal. However, we do suggest that you look into the sports betting laws in your state if you want to be sure that nothing has changed since this article was wrote.
The legal age to sign up at Bovada is 18. Some jurisdictions may require you to be 21, so check local laws or at least check our guide to legal betting ages by state before creating an account.

Is It Legal To Bet On Sports At Bovada Sportsbook?
As far as the reasons why you'd want to make a bet at Bovada in the first place, there are numerous and we're going to cover the ones that are most important as we continue in this review. These are going to be things like bonuses (immediately below), financial matters, what can be bet on, etc...
Bovada Sportsbook Bonuses + Bonus Codes
If you think you might want to register for an account at Bovada, consider this... This sports betting sites allows Americans to get up to 50% on top of their first deposit in free bonus funds that can be bet immediately. This bonus comes with a $250 cap but it also has a very low rollover limit to achieve before being able to withdrawal it from your Bovada account.
Most would think a bonus this good would require some sort of code but that is not the case. There are no sportsbook bonus codes for Bovada as the site credits all bonuses automatically when making the initial deposit. If you'd like to decline the bonus, contact the cashier after making the deposit + before making a wager to have the bonus + rollover limits removed.
Sports + Ways To Bet With Bovada Sportsbook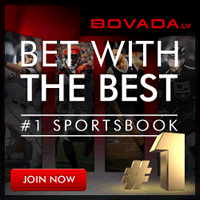 Over 30 of the most popular sports can be wagered on at Bovada sportsbook. All major American leagues including, the NBA, NFL, MLB, College Football, College Basketball, UFC, Tennis, Golf, and NHL are at Bovada. Less popular sports are also in the lineup for those who enjoy snooker or volleyball. Bovada also features a live betting option which allows users to wager as the event is happening.
One of the best features on Bovada is their mobile betting application. Members who use an iPhone or Android operated smart phone can use most features and place wagers using their mobile app.
NFL Betting At Bovada
Bovada has many betting odds spanning many sports, but its top-of-the-line section could arguably be the NFL. The NFL is the most bet-on sport in the United States, so Bovada certainly ensures that their account holders have the best betting lines and plenty of choices to go with.
We think that the props sections for Bovada really make it one of the best for NFL betting. Bovada forms both player and team prop odds for each game during the season, as well as forms season-long prop odds. Be sure to check out Bovada and see the lines for the NFL, all odds can be viewed even without an account.
College Basketball Season At Bovada's Sportsbook
Wagering on college basketball at Bovada is led by the NCAA Tournament each season. But even before 68 of the best teams in the country get it going, the regular season and conference tournaments present plenty of wagering opportunities.
What Bovada does for the NCAA Tournament is neat though because of the different promotional offers and bracket challenges. Each season is unique, but one thing that you can count on is Bovada having the NCAA tournament covered with game lines, tournament odds, bracket odds, and a variety of other props lines throughout.
Bovada Deposit Methods For US Players
Bovada offers some great ways to make a deposit into an account. There are two types of wire transfers that can be conducted, as well as one of the most popular credit cards used in the entire world. This makes the three deposit choices very open to all types of bettors.
Visa - The Visa deposit option is definitely chosen by the majority of account holders, because all it requires is that the player enters the card number and information into the account to then make the transaction happen. It's like purchasing something online except it's just a deposit into an online sportsbook instead of an actual purchase.
Western Union - There are many Western Union locations around, and Bovada accepts transfer that bettors want to make through this outlet. Once sent, the transfer will be applied to the bettor's account when it is received.
MoneyGram - This is another type of wire transfer that is sent electronically and will take only a couple of hours to get to a sportsbook before it is deposited into the person's account.
Bovada Payouts + Withdrawal Options
Currently only 2 legal sportsbook payout options are available for cashing out your winnings on Bovada, but both are faster than most for Americans.
The quickest method is by using the Rapid Transfer option. A minimum of $100 and maximum of $800 applies per cash out request. A fee will be charged depending on the amount as well.
Users may also request a check by courier which will take a bit longer but is generally less time than most U.S. facing sportsbooks.
Players may have to verify their identity by submitting documents to Bovada before requesting cash out. This process is in place to protect its members from fraud and identity theft. It's a good safety precaution used by most legal sports betting websites.
Bovada Payout Times
When it comes to getting payment out quickly, Bovada is among the leaders as their methods have the capabilities of sending players money within a few days. Of course, the faster the payout time means increased fees but the convenience seems to be worth it because most do not complain.
A wire transfer through Western Union or MoneyGram will be the fastest option for getting money out of this legal online sportsbook. Bovada says that the money can be received by the player as soon as 12 hours after it is processed and then approved. Typically, players will have their winnings within 36 hours after Bovada sends it out.

Customer Service + Support At Bovada
You can reach one of Bovada's English speaking agents using 2 methods. The first is by email which can be contacted by using an online form which is easy to fill out and will be handled in an efficient manner. The second option is by using their 24/7 toll free number. General support can be reached at 1-888-263-0000.
Overall Thoughts On Bovada Sportsbook
Bovada Sportsbook and its partner Bodog are well respected names in the online gaming world. Being in business for over 20 years has allowed the company to provide an innovative and unique service. The general review of Bovada Sportsbook users is one of great praise. One would be hard pressed to find a better place to bet on all their favorite sports.
Best Legal Online Sportsbooks For 2021